Running syncthing between a Windows PC and an Android phone, on a home wifi network. Syncthing has worked before, but only works 5% of the time. I don't know what makes it work when it does. Almost always, I get an error like this: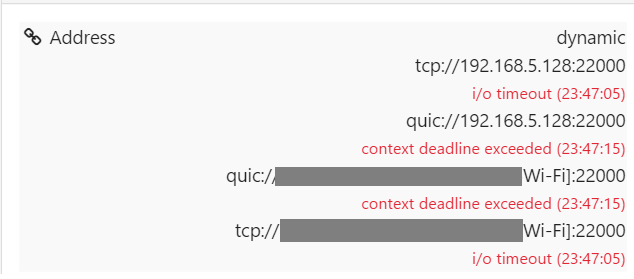 On both the PC and the phone, I have:
local discovery: on
global discovery: off
NAT traversal: on
Syncthing version 1.3.0 on both ends. I've tried turning my Windows firewall off, it seems to not have an effect.
How can I debug this? Thank you.
[YABFW] 09:08:14 INFO: Completed initial scan of sendreceive folder "aaa" (yejvq-swwww)
[YABFW] 09:08:14 INFO: Completed initial scan of sendonly folder "bbb" (lqb71-8ng9m)
[YABFW] 09:08:15 INFO: GUI and API listening on 127.0.0.1:8384
[YABFW] 09:08:15 INFO: Access the GUI via the following URL: https://localhost:8384/
[YABFW] 09:08:15 INFO: My name is "WINDOWS-0N1UF2U"
[YABFW] 09:08:15 INFO: Device X3Q52J7 is "ANDROID" at [dynamic]
[YABFW] 09:08:25 INFO: Detected 0 NAT services
[YABFW] 09:08:33 INFO: quic://0.0.0.0:22000 detected NAT type: Port restricted NAT
[YABFW] 09:08:33 INFO: quic://0.0.0.0:22000 resolved external address quic://76.102.150.9:22000 (via stun.syncthing.net:3478)
[YABFW] 09:08:55 INFO: Pausing X3Q52J7