Hi everyone, and first of all, thanks for your valuable time that you spend on helping others.

I recently changed from FreeNAS to Ubuntu Server. I use Syncthing to backup the Camera folders from the phones of my family. I installed Syncthing, and when a client is connected, and the synchronization process starts, i get a connection error. Sometimes it disappears for a few seconds, then comes out again. The client status alternate between connnected / disconnected and the folder status synced / out of sync. It sync some files every time, and eventually, makes some progress, but it errors out, and restarting the process. ( or at least seems like to me that's happening) But, when it's not syncing (my phone is off), there is no problem at all the GUI is responsive, but when a sync is in progress, the error message comes out.
So, the things I tried, reinstalled the server on the NAS, reinstalled the client app on my OnePlus 6. Disabled the firewall on the NAS. Changed the complete disk's permissions to 777. Tried a different folder to sync. Tried a different client to sync from. Tried reinstallign it with a snap package. Tried with the default sync folder, that is on the boot drive and not on a mounted disk.
Can anybody help me figure this thing out? I would really appreciate it.
I read on some posts, maybe the errors in the browser console may help to get it diagnosted, so I attach some pictures of it. ( NAS : v0.14.43-ds1, Linux (64 bit) & Android app is the latest)
The error message:

The error from the browser's console that is present all the time, no matter client is connected or not:

The errors that comes out when a client is trying to sync: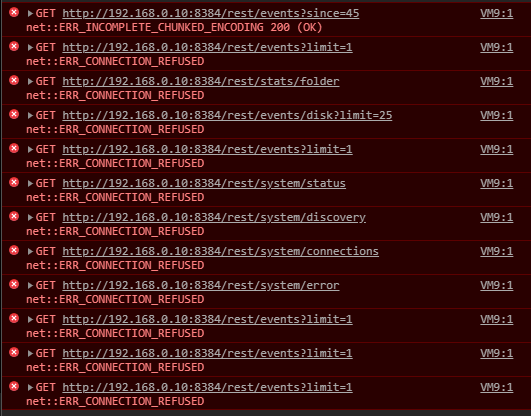 Thank You