Hi all, I've been using Syncthing for about a year without issues, but now I got an issue. I'll explain below.
Syncthing setup:
3 clients:
2 x macos
1 x linux ("master")
Syncing one directory called sync (basically using syncthing as dropbox)
What I did:
I recently needed to recreate my ZFS pool on my NAS (due to 512 / 4k sector sizes, etc.). Anyhow. I moved off all the files from the share with rsync (keeping all properties i.e creation, modificaton, etc.), recreated the ZFS filesystem I'm using for syncthing and moved all files back with rsync.
Issue:
I'm now getting different sync states from different clients. My linux client ("master" with simple versioning) is reporting that my two macos clients is at 77%, while my two macos clients (no versioning) is reporting my linux client to be at 99%.
The linux client has the files on a NFS share with full read/write/modify rights.
Any input on how to resolve this?
(See attached image, and please let me know if you need any more info)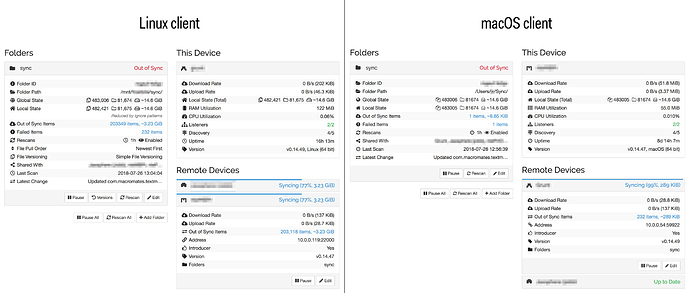 (I had to combine the two screenshots due to not being allowed to upload more than one image)