I have two macOS laptops running Syncthing-macos 1.7.0-1. They talk to each other just fine.
One talks to and synchronizes with a third machine - the richb-Vostro-3550 machine running Ubuntu 18.04. The other macOS laptop does not, but gives an error message, No compatible QUIC version found. We support [QUIC WG draft-28], server offered [0xff000016 0xyadaea4a] (see screen shot below).
Any thoughts on diagnosing why the one computer works, and the second does not? I attach the log messages below the screen shot. What other diagnostic information could I provide? Many thanks.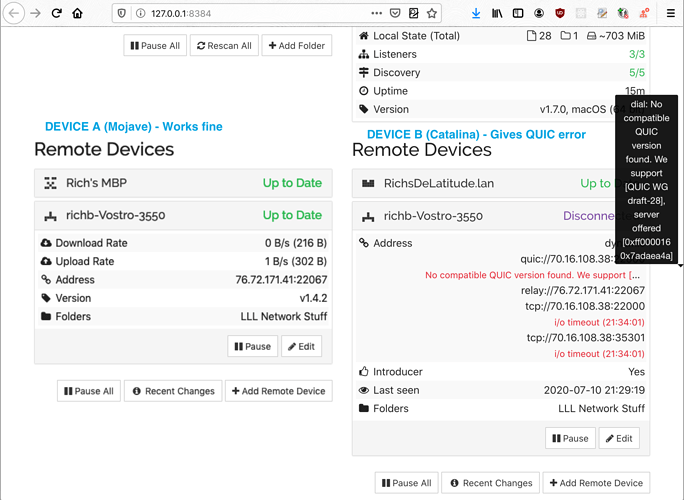 The logs show:
2020-07-10 21:18:56 My ID: PMCKRHI-VIBSASD-LOXD5U7-3BDNLZ5-A6WZMFZ-2DG5ZLM-57U6EKO-BJ7ZJAY
2020-07-10 21:18:57 Single thread SHA256 performance is 60 MB/s using minio/sha256-simd (58 MB/s using crypto/sha256).
2020-07-10 21:18:58 Hashing performance is 51.36 MB/s
2020-07-10 21:18:58 Overall send rate is unlimited, receive rate is unlimited
2020-07-10 21:18:58 Using discovery server https://discovery.syncthing.net/v2/?noannounce&id=LYXKCHX-VI3NYZR-ALCJBHF-WMZYSPK-QG6QJA3-MPFYMSO-U56GTUK-NA2MIAW
2020-07-10 21:18:58 Using discovery server https://discovery-v4.syncthing.net/v2/?nolookup&id=LYXKCHX-VI3NYZR-ALCJBHF-WMZYSPK-QG6QJA3-MPFYMSO-U56GTUK-NA2MIAW
2020-07-10 21:18:58 Using discovery server https://discovery-v6.syncthing.net/v2/?nolookup&id=LYXKCHX-VI3NYZR-ALCJBHF-WMZYSPK-QG6QJA3-MPFYMSO-U56GTUK-NA2MIAW
2020-07-10 21:18:58 Ready to synchronize "LymeFiber_Files" (ntqbp-wqebt) (sendreceive)
2020-07-10 21:18:58 Relay listener (dynamic+https://relays.syncthing.net/endpoint) starting
2020-07-10 21:18:58 Ready to synchronize "LLL Network Stuff" (wqs9v-nufj5) (sendreceive)
2020-07-10 21:18:58 ...
2020-07-10 21:18:58 QUIC listener ([::]:22000) starting
2020-07-10 21:18:58 TCP listener ([::]:22000) starting
2020-07-10 21:18:58 Completed initial scan of sendreceive folder "LymeFiber_Files" (ntqbp-wqebt)
2020-07-10 21:18:58 Completed initial scan of sendreceive folder "LLL Network Stuff" (wqs9v-nufj5)
2020-07-10 21:18:59 GUI and API listening on 127.0.0.1:8384
2020-07-10 21:18:59 Access the GUI via the following URL: http://127.0.0.1:8384/
2020-07-10 21:18:59 My name is "Richs-MBP-Pro.lan"
2020-07-10 21:18:59 Device AEYZNCU-MLESDL2-QP7CXYO-3HPVITF-6E5656C-Q2HVBBD-UQTVFLD-ZOVBSA5 is "richb-Vostro-3550" at [dynamic]
2020-07-10 21:18:59 Device UZXFASV-LBGQA2R-E6VOFSA-QLAR4NB-FU3ULIQ-EOTDTA4-2IN4UYT-N2YNZQD is "RichsDeLatitude.lan" at [dynamic]
2020-07-10 21:19:09 Established secure connection to AEYZNCU-MLESDL2-QP7CXYO-3HPVITF-6E5656C-Q2HVBBD-UQTVFLD-ZOVBSA5 at 192.168.253.111:61349-76.72.171.41:22067/relay-client/TLS1.3-TLS_AES_128_GCM_SHA256
2020-07-10 21:19:09 Device AEYZNCU-MLESDL2-QP7CXYO-3HPVITF-6E5656C-Q2HVBBD-UQTVFLD-ZOVBSA5 client is "syncthing v1.4.2" named "" at 192.168.253.111:61349-76.72.171.41:22067/relay-client/TLS1.3-TLS_AES_128_GCM_SHA256
2020-07-10 21:19:10 Connection to AEYZNCU-MLESDL2-QP7CXYO-3HPVITF-6E5656C-Q2HVBBD-UQTVFLD-ZOVBSA5 at 192.168.253.111:61349-76.72.171.41:22067/relay-client/TLS1.3-TLS_AES_128_GCM_SHA256 closed: reading length: EOF
2020-07-10 21:19:10 Established secure connection to UZXFASV-LBGQA2R-E6VOFSA-QLAR4NB-FU3ULIQ-EOTDTA4-2IN4UYT-N2YNZQD at 192.168.253.111:61353-192.168.253.183:22000/tcp-client/TLS1.3-TLS_AES_128_GCM_SHA256
2020-07-10 21:19:10 Device UZXFASV-LBGQA2R-E6VOFSA-QLAR4NB-FU3ULIQ-EOTDTA4-2IN4UYT-N2YNZQD client is "syncthing v1.7.0" named "RichsDeLatitude.lan" at 192.168.253.111:61353-192.168.253.183:22000/tcp-client/TLS1.3-TLS_AES_128_GCM_SHA256
2020-07-10 21:19:13 Detected 1 NAT service
2020-07-10 21:19:18 quic://0.0.0.0:22000 detected NAT type: Port restricted NAT
2020-07-10 21:19:18 quic://0.0.0.0:22000 resolved external address quic://64.223.227.99:22000 (via stun.syncthing.net:3478)
2020-07-10 21:19:44 Joined relay relay://199.195.253.144:443
2020-07-10 21:27:46 Pausing AEYZNCU-MLESDL2-QP7CXYO-3HPVITF-6E5656C-Q2HVBBD-UQTVFLD-ZOVBSA5