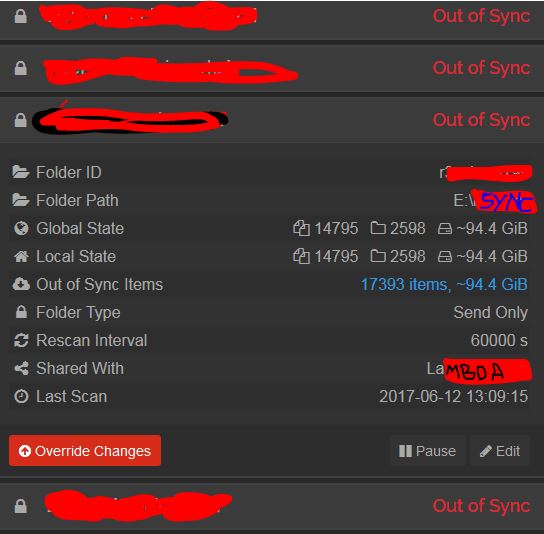 Hi all folders I have set up are 'Out of sync'. Screen comes from [Windows 7] computer syncing to Linux Mint.
Mint is using program for Syncthing management instead of browser. Everything on the computer with [Mint] is showing as in Sync.
I had a Laptop [Mint] HDD failure. But before that crash I had certain folders synced between Mint and Win7.
So once I had Mint up and running, I have put files recovered from [old Mint] back on Data partition [photos documents]. Plus now I have had synced new E:\Sync folder from Win7 to Mint. I did it by creating manually new folder on Mint and syncing everything there from folder on Win7. Win7 explorer shows that there is in fact 14796 files - which basically same number as shown in Global/Local State [on screenshot]. But for some reason in "out of sync" line there is over 17k files

Another folder is having only one file that from what I see is also successfully synced but is still out of sync at the source [Win7].
So Win7 is source and master for all other folders on Mint to update folders on Mint if any changes happened since crash, plus one folder is brand new [ E:\SYNC].
I'm afraid to switch it to bidirectional syncing for now as I don't know whats going on.
Override CHanges - button doesn't change a thing.
Can I ask you for advice please?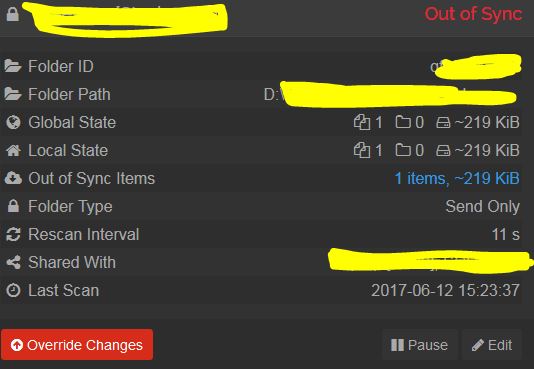 EDIT now I have added random file to the master folder from the last screenshot with one file and it shows in sync now ???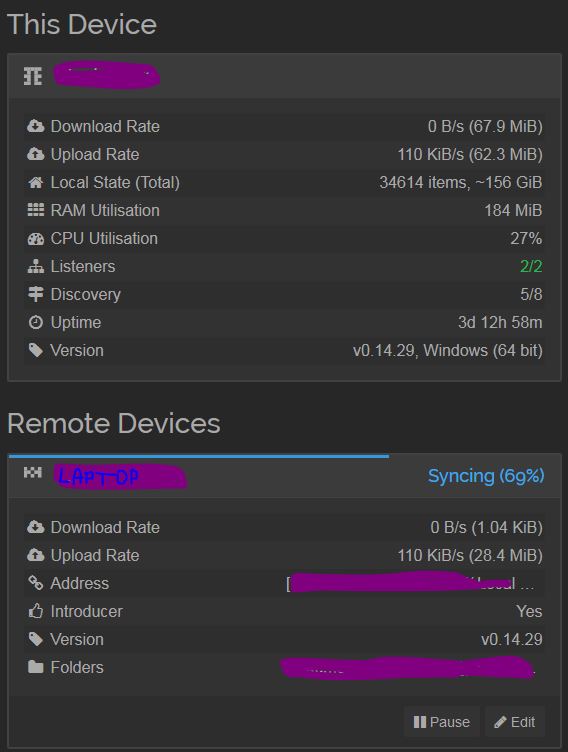 All syncing is finished now apart from abnormalities
Removed SyncthingGTK from Mint - will rely on browser. Will update once all scanning has finished.