So, I'm trying to sync only a selection of my music library to my Android. The setup is not that complicated:
Setup a send only folder on PC.
Setup a recieve only folder on Android.
Write this essentials.stignore file to the music folder on PC:
# Include this file - maybe here is the problem?
!/essentials.stignore
!/this album
!/that album
# ...
# Ignore all the rest
/*

Write on Android's .stignore:
#include essentials.stignore

---
In order to set it up for the first time, I had to manually copy essentials.stignore to the Android's music folder, otherwise I got the error "can't find included stignore file 'essentials.stignore'". Never mind that.
But, even after I do this, it won't sync because it reaches this state: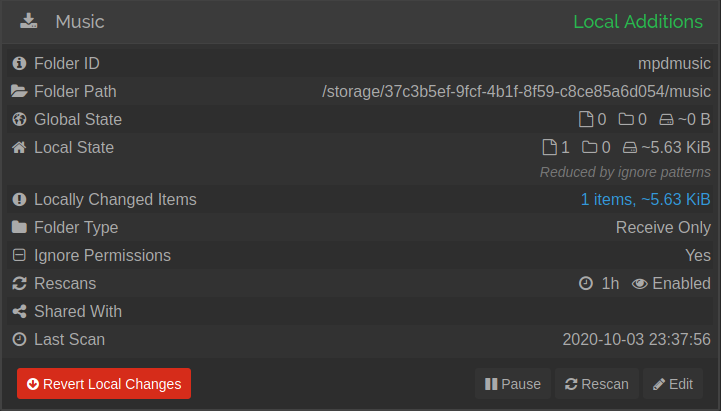 Where that 1 "Locally Changed Item" is essentials.stignore.
I think the issue is that it's not syncthing that has wrote the essentials.stignore file I started out with, but it was manually written by me. Never the less, if the files on both sides are identical, why should if fail?
Help will be appreciated.