We have about 25 machines that all keep a handful of folders in sync. Things worked beautifully until roughly 3 weeks ago. I'm pretty sure there was a syncthing update. All the boxes are running v1.8.0, Linux (64 bit) "Fermium Flea".
As you can see in the screenshot below the box named "uslog00nas01" shows every folder is "Up to date", but for some reason it's syncing with almost every other machine on the list. You can also see there's no data being transferred.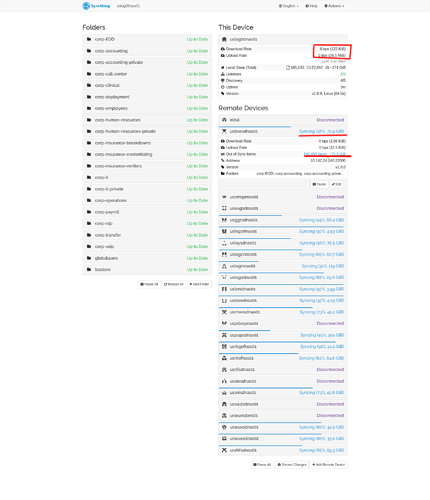 Checking the other boxes doesn't reveal anything too interesting. Just the same "Up to date" on all their folders and a large amount of data to sync.
…but a few boxes actually list one or two folders as "out of sync". Most of them show that 0 bytes need to be transferred and it's usually one or a few files.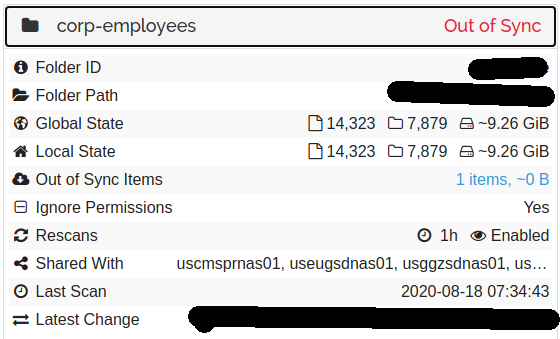 A few machines show "out of sync" and list a good number of files. For example, one says "116 items, ~13.5 MiB". When I click on it I never see a list of files.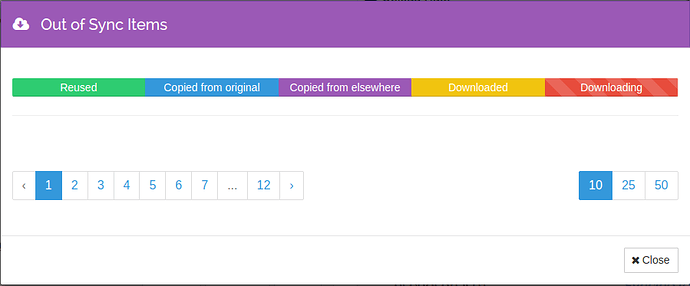 Here's the part that's strange to me.
every single box shows it needs to transfer data from every other box. Clicking on a box under "Remote Devices", then clicking the amount that needs to be transferred (for example "160,689 items, ~75.9 GiB") gives me the following: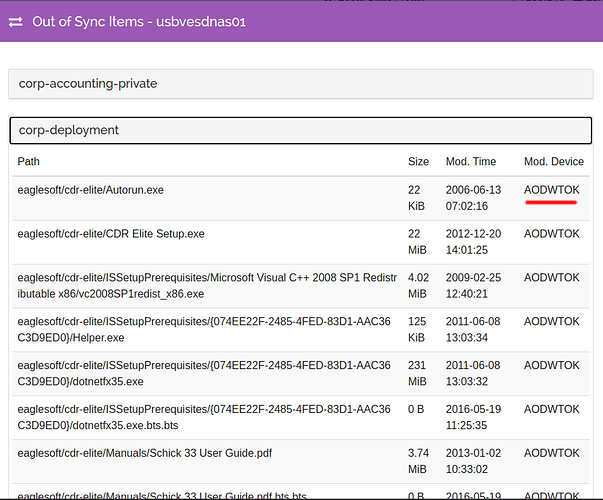 What device is "AODWTOK"? Who knows? It doesn't show up in the device list on any machine.
When I look at the "This Device" section of every box, I see almost no traffic. Maybe a few bytes of upload/download. When I poke through each machine in the "Remote Devices" of every syncthing instance, I see 0 bytes for almost everything. Where it is non-zero, I see a few intermittent bytes.
Steps I have tried to fix the problem:
Stopped syncthing everywhere, ran syncthing -reset-deltas. After a few hours of churning I end up back in the same state.
Stopped syncthing everywhere, ran syncthing -reset-database. After a few days of churning I end up back in the same state.
Stopped syncthing, prevented all access to the affected folders by users over the weekend, tried -reset-database again.
Any thoughts?