I'm on Linux PopOS (which is Ubuntu 22.04) and syncing with a Google Pixel 7 Pro (GrapheneOS).
Installed Syncthing and ran it successfully and started syncing a 10 GB folder. Everything was smooth, even though the sync kept getting disconnected and reconnected automatically for some reason.
The Sync reached 95% and ever since then I've been banging my head against the wall for 2 days straight.
Because it just stopped at 95%. I didn't do anything. In fact, I left the desktop and mobile on their own and was in a different room. And just peeked to check every once in a while.
Now it constantly switches between connected and disconnected. But when it stays connected for a few seconds the speeds are abysmal, like 2-3 Kb/s.
Which boggles my mind because initially I was getting 2-3 Mb/s and sometimes even 13 Mb/sec: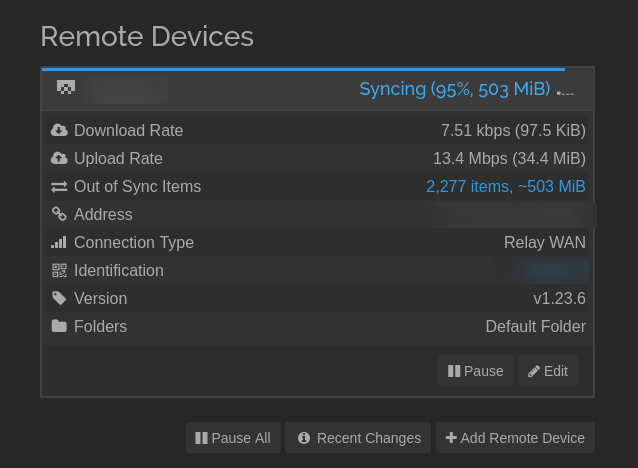 I'm also running Mullvad VPN on both the Linux desktop and GrapheneOS mobile, however, I did try disconnecting it on both devices but nothing really changed.
And when I was downloading with 13 Mb/sec, I was with Mullvad switched on. So it definitely worked with the VPN switched on.
Nothing makes sense any more.
Any input will be highly appreciated! Thank you!