Last Friday, sync was OK. During the week-end I worked a little at home. Back to my desk today, Syncthing will never start syncing again. No error message. All the folders are given as UPDATE (which they aren't). The machine this machine should connect to Disconnected and so stays no matter what I do (reboot, rescan, pause and resume…)
Yes, network is working alright, the remote machine is working alright. Is is sync'ing regularly with other machines. So, only this one is sleeping forever (almost 4 hours).
Image bellow depicts what Syncthing tells me about the remote machine: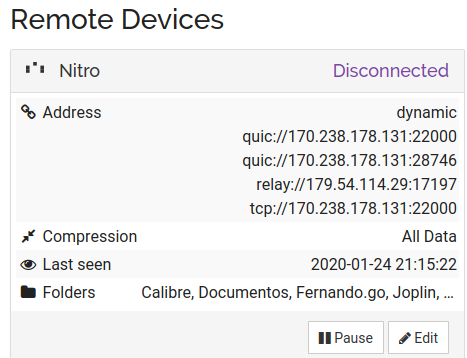 Is there anything I can do to find why the system is comatose? Anything I can do to force it to connect again? (date and time on the lower right corner informs us last time the systems talked on last Friday).
Best regards
-fernando