Hi Syncthing forum, I've been using ST for quite a while, but up until now only for some small folder syncs. I wanted to expand this now with several friends. I know ST isn't meant as a backup solution but I do want to use it for offsite backups. I just want multiple offsite backups for worst case scenarios like fire or lighting. Accidental file deletions is already covered by local versioning.
Anyway, the idea is to have 4 ST servers. One at each friends house. Every server will have a local folder that needs to be synced to an encrypted folder on the other 3 devices.
I see several options for this and picked 2 of them in a small drawing. Option A: Data from master storage is synced and received encrypted by 3 other nodes. All nodes are configured to share the folder between them. Possibly a lot of overhead, double transfers etc. Or is ST deviding the data over the servers so there's no double upload for the master storage?
Option B: Data from master storage is received encrypted at node 2. This node sends it to node 3, node 3 sends it to node 4. Delay until the data is at node 4.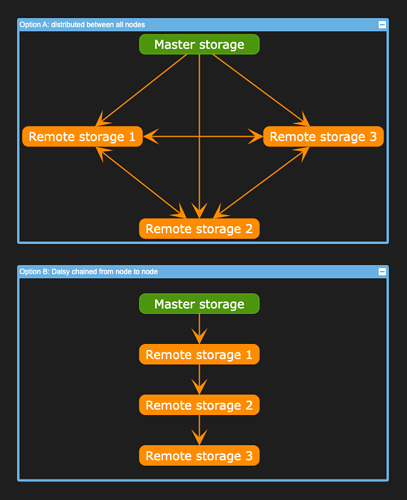 What do you think is the best option?