I've experienced this problem where some (but not all) files in Receive Only folders are marked as Local Additions after doing a database reset. Things do come back to normal when I use the Revert Local Additions button, however I'd still like to know why these files are marked as such. The physical files on the disk are exactly the same.
The GUI: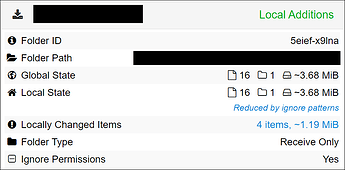 and the REST API comparison between the same file on two devices:

Have you got any idea what triggers this state?
Edit:
I forgot to mention that this happens when the files are already present in the folder, not when downloading them from scratch.