Hey,
I write here because the issue sction is not available at github.
I use the app for quite some time with specific run condition, those doesn't work after upgrade to LOS 17.1 android 10 and have worked fine under Android pie LOS 16.
The app doesn't start if I arrive my home wlan network. I have tried to reconfigure, but I'm unable to choose a wlan. The button doesn't act with me. I have read, that for wlan the gps location is needed and it is granted to the app, but according to the logs, never used or asked by the app.
Any suggestions to solve this?
Danke /Thanks Micha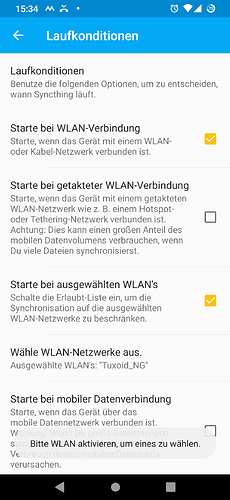 The screenshot means, please enable wlan to choose one, but as you can see at the top, wlan is running.