The following bug has appeared since v0.14 or so, and always after I upgrade Syncthing (but not after every upgrade), so I thought I'll finally post about it. I also think, this is the same problem as these issues:
This has led me to an apt policy of putting the syncthing package on hold (Debian jessie and stretch) and wait for a bit, because the bug seems to disappear after a minor update to the package (I am using https://apt.syncthing.net/ syncthing stable as repository).
So, until yesterday, my three devices were working perfectly using, I think, version 1.1.4. This is the relevant part of the network:
Device_A <-------> Device_B <-------> Device_C
Then, I upgraded Device_A and Device_B to v1.2.0 and, suddenly, I get this (and I've seen this problem often and tried all sorts of things, but in the end, waiting for a minor upgrade works best, but it gets annoying):
Screenshot of Device_A pointing to Device_B: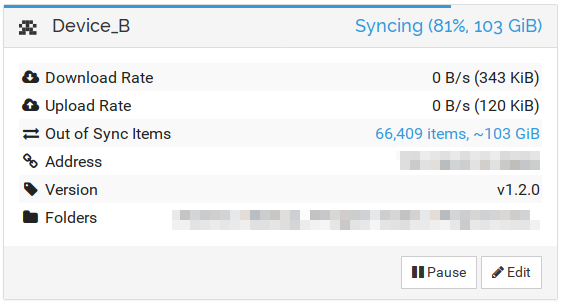 Screenshot of Device_B pointing to Device_A: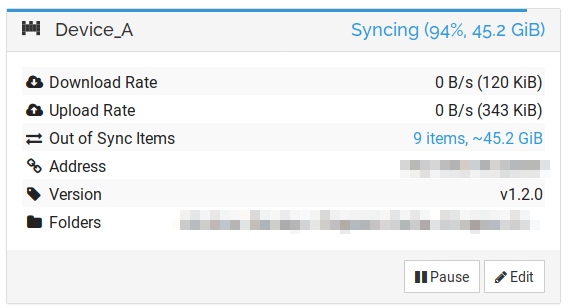 Device_C was still okay then, but today I also upgraded Device_C to 1.2.0 and suddenly:
Screenshot of Device_C pointing to Device_B: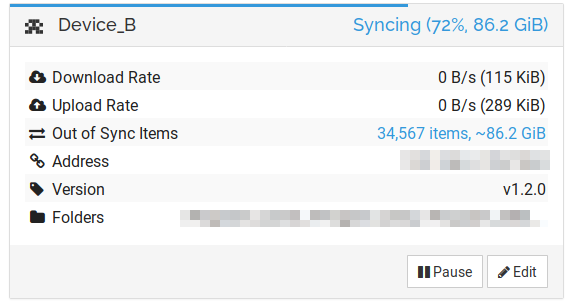 Screenshot of Device_B pointing to Device_C: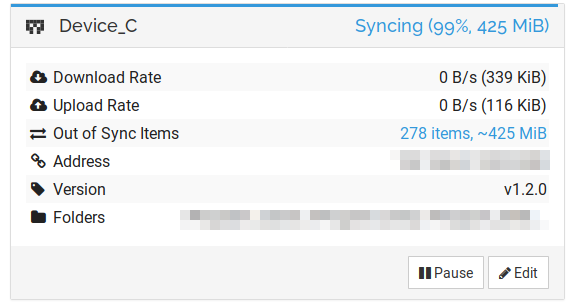 If you examine a few of those "Out of Sync Items" files, they are completely fine: They have the proper permissions ("Ignore permission" is enabled on all shares and devices), the timestamps are the same, the MD5 checksums are the same, etc. If you create a new file in a shared folder, it will synchronize, but not the others.
I've tried the log flags fs, model, scanner, walkfs, but didn't find anything unusual.
This happens regularly after a major update, and then after a while, a minor update to the package is released, and the problem goes away.