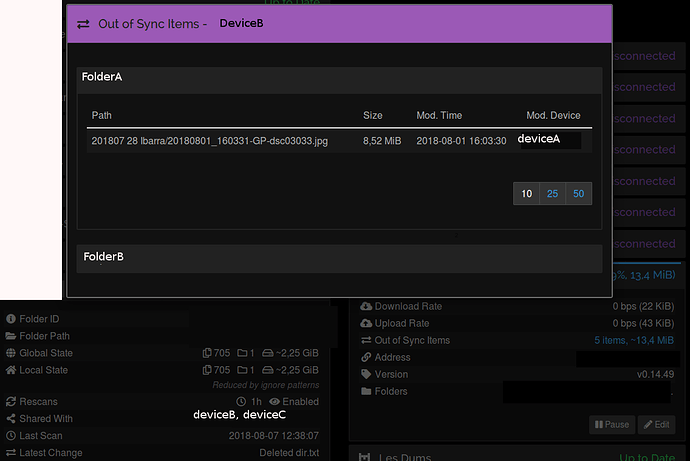 Same issue with 5 files spread in 2 folders.
All devices are/were 0.14.49 stable All 5 files are shown stuck pushing in deviceA to deviceB, only one showing this state for folderA, the 4 others for folderB. GET /rest/db/file below for the first one, so 4 instances of the file. sameness tested OK with shasum256 in the 4 places (2 in deviceA/foldersA+B,2 in deviceB/foldersA+B).
Topology of folderA: triangular rw & no ignores devicesABC (friend's deviceC is offline since I met the issue). Usually, devicesA & B are in my LAN and deviceC is remote. At the time the file was first dropped with many others in deviceA-folderA and synch started to deviceC, these 2 laptops were in another holidays LAN with my cellular phone as the edge gateway mobile AP (with a single client: a ddwrt router as client doing virtualAP(not WAP, i.e. different LAN segment from mobile AP) for the laptops, so I'm 100% sure they were in the same LAN), and when I realized/remembered my deviceB was involved & online, I first paused deviceB in deviceC, then a bit later I also thought and paused deviceB in deviceA so I didn't eat all my mobile data plan. When I went back home, I resumed devB in devA, then I saw the issue when sync was all done, but I'm not sure my friend resumed devB in his devC (whatever, devC is offline since, I'm sure of this because my deviceA shows it so since 4 days). That's all folks for circumstancies/environment, and sorry if this not useful.
Topology of folderB: multi symetrical link to several friends devices with deviceB and deviceC, and deviceA only shares with deviceB (not directly with deviceC and others).
DeviceA failing to push this file to DeviceB in folderA:
{
  "availability": null,
  "global": {
    "deleted": false,
    "ignored": false,
    "invalid": false,
    "localFlags": 0,
    "modified": "2018-08-01T16:03:30+02:00",
    "modifiedBy": "772V4XB",
    "mustRescan": false,
    "name": "201807 28 Ibarra/20180801_160331-GP-dsc03033.jpg",
    "noPermissions": false,
    "numBlocks": 69,
    "permissions": "0664",
    "sequence": 787,
    "size": 8934832,
    "type": 0,
    "version": [
      "772V4XB:1"
    ]
  },
  "local": {
    "deleted": false,
    "ignored": false,
    "invalid": false,
    "localFlags": 0,
    "modified": "2018-08-01T16:03:30+02:00",
    "modifiedBy": "772V4XB",
    "mustRescan": false,
    "name": "201807 28 Ibarra/20180801_160331-GP-dsc03033.jpg",
    "noPermissions": false,
    "numBlocks": 69,
    "permissions": "0664",
    "sequence": 787,
    "size": 8934832,
    "type": 0,
    "version": [
      "772V4XB:1"
    ]
  }
}

DeviceA succeded to push this file to DeviceB in folderB:
{
  "availability": [
    {
      "id": "LF5AG4N-XXXXXXX-XXXXXXX-XXXXXXX-XXXXXXX-XXXXXXX-XXXXXXX-XXXXXXX",
      "fromTemporary": false
    }
  ],
  "global": {
    "deleted": false,
    "ignored": false,
    "invalid": false,
    "localFlags": 0,
    "modified": "2018-08-01T16:03:30+02:00",
    "modifiedBy": "772V4XB",
    "mustRescan": false,
    "name": "201807 28 Ibarra/20180801_160331-GP-dsc03033.jpg",
    "noPermissions": false,
    "numBlocks": 69,
    "permissions": "0664",
    "sequence": 828,
    "size": 8934832,
    "type": 0,
    "version": [
      "772V4XB:1"
    ]
  },
  "local": {
    "deleted": false,
    "ignored": false,
    "invalid": false,
    "localFlags": 0,
    "modified": "2018-08-01T16:03:30+02:00",
    "modifiedBy": "772V4XB",
    "mustRescan": false,
    "name": "201807 28 Ibarra/20180801_160331-GP-dsc03033.jpg",
    "noPermissions": false,
    "numBlocks": 69,
    "permissions": "0664",
    "sequence": 845,
    "size": 8934832,
    "type": 0,
    "version": [
      "772V4XB:1"
    ]
  }
}

---
DeviceB not asking anything from folderA (GET /rest/db/samefile):
{
  "availability": [
    {
      "id": "772V4XB-XXXXXXX-XXXXXXX-XXXXXXX-XXXXXXX-XXXXXXX-XXXXXXX-XXXXXXX",
      "fromTemporary": false
    }
  ],
  "global": {
    "deleted": false,
    "ignored": false,
    "invalid": false,
    "localFlags": 0,
    "modified": "2018-08-01T16:03:30+02:00",
    "modifiedBy": "772V4XB",
    "mustRescan": false,
    "name": "201807 28 Ibarra/20180801_160331-GP-dsc03033.jpg",
    "noPermissions": false,
    "numBlocks": 69,
    "permissions": "0664",
    "sequence": 345,
    "size": 8934832,
    "type": 0,
    "version": [
      "772V4XB:1"
    ]
  },
  "local": {
    "deleted": false,
    "ignored": false,
    "invalid": false,
    "localFlags": 0,
    "modified": "2018-08-01T16:03:30+02:00",
    "modifiedBy": "772V4XB",
    "mustRescan": false,
    "name": "201807 28 Ibarra/20180801_160331-GP-dsc03033.jpg",
    "noPermissions": false,
    "numBlocks": 69,
    "permissions": "0664",
    "sequence": 345,
    "size": 8934832,
    "type": 0,
    "version": [
      "772V4XB:1"
    ]
  }
}

DeviceB not asking anything from folderB (GET /rest/db/samefile):
{
  "availability": [
    {
      "id": "YHJRSXZ-XXXXXXX-XXXXXXX-XXXXXXX-XXXXXXX-XXXXXXX-XXXXXXX-XXXXXXX",
      "fromTemporary": false
    },
    {
      "id": "XXH25YP-XXXXXXX-XXXXXXX-XXXXXXX-XXXXXXX-XXXXXXX-XXXXXXX-XXXXXXX",
      "fromTemporary": false
    },
    {
      "id": "772V4XB-XXXXXXX-XXXXXXX-XXXXXXX-XXXXXXX-XXXXXXX-XXXXXXX-XXXXXXX",
      "fromTemporary": false
    }
  ],
  "global": {
    "deleted": false,
    "ignored": false,
    "invalid": false,
    "localFlags": 0,
    "modified": "2018-08-01T16:03:30+02:00",
    "modifiedBy": "772V4XB",
    "mustRescan": false,
    "name": "201807 28 Ibarra/20180801_160331-GP-dsc03033.jpg",
    "noPermissions": false,
    "numBlocks": 69,
    "permissions": "0664",
    "sequence": 5895,
    "size": 8934832,
    "type": 0,
    "version": [
      "772V4XB:1"
    ]
  },
  "local": {
    "deleted": false,
    "ignored": false,
    "invalid": false,
    "localFlags": 0,
    "modified": "2018-08-01T16:03:30+02:00",
    "modifiedBy": "772V4XB",
    "mustRescan": false,
    "name": "201807 28 Ibarra/20180801_160331-GP-dsc03033.jpg",
    "noPermissions": false,
    "numBlocks": 69,
    "permissions": "0664",
    "sequence": 828,
    "size": 8934832,
    "type": 0,
    "version": [
      "772V4XB:1"
    ]
  }
}