Hey guys!
I have an issue currently with a folder that has a send-only side and a receive-only side. A folder was removed quite a few weeks ago on the send-only computer, but everything has been paused due to other issues that locked the entire Syncthing (external issues with networking).
After solving the external issues I tried to resume the folders that had been paused and most of it works fine, but I have 4 files that become "failed" on the receiver-side. The reason is "No such file", which is perfectly fine as the file should not exist, and does not exist on the sender-side. It's just bothering me that the files are not removed from the receive-only side but rather stays there as ~syncthing.xxxx.tmp files, and if i try to remove them manually they just reappear.
Sender-side: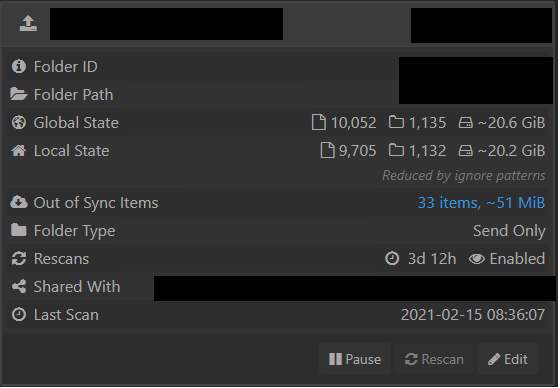 This is also rather weird as it says that the last scan finished 2021-02-15 whereas I watched the logs as it said "Finished walking of folder XXX 100%" yesterday (2021-03-15). Perhaps that is the issue, that the scanning doesn't actually finish when it says that it is finished? Currently the state of the folder is "Scanning 0%"
Receiving side: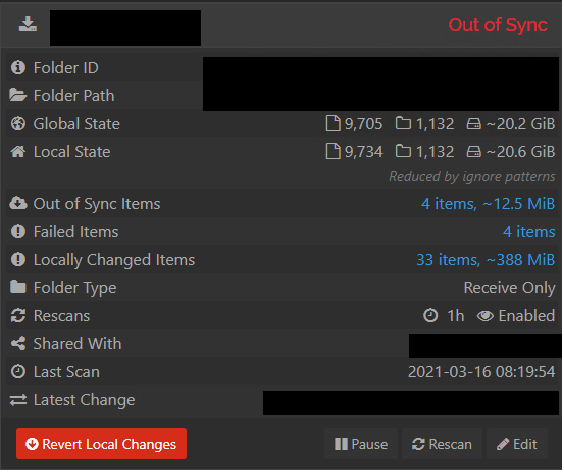 Any hints on what can be done to solve this issue? The issue is present on all the devices (30-ish) that share this folder from the sender-side so it's not a "one-off" on this specific device.
Thanks in advance